YESSSSSSSSSSSSSSSSSSS!
I am totally stoked. Today, I leave for WORLD HORROR in ATLANTA!
I have never been to World Horror. I have never been to Atlanta. This means ADVENTURE! This year's WHC theme? THE WEIRD SOUTH!
Here's my schedule. Come and find me and we'll fist bump till glitter pops out of our knuckles.
THURSDAY, Dunwich, 10 – 11 pm: Terrifying Tropes: Dark Carnivale: Freaks, Geeks, Magicians and Spiritualists
…YES! Finally a freakin' panel on CARNIE AND CIRCUS LIT and NONFICTION! AND MOVIES! I'm moderating. And. SERIOUSLY, AND! Daniel Knauf, the creator of CARNIVALE, is going to be on the panel.
I am fangirling here so I don't blush till blood boils out of my ears in front of him. I mean, CARNIVALE! This: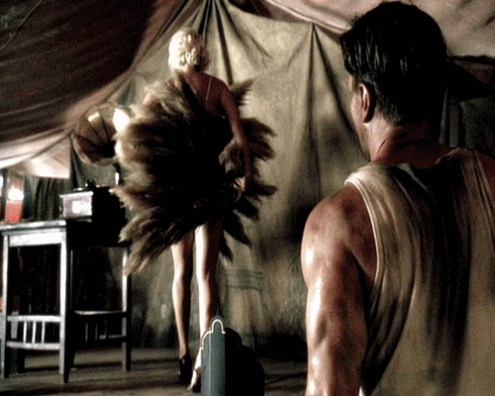 …It's gonna be a doozy.
FRIDAY, R'Lyeh, 9-10 am: Scarebiz: Choose Your Own Adventure: The Pinnacles and Pitfalls of Self-Publishing
…Do it up! Come and hear the DO NOT DO THIS SHIT and the YES! TOTALLY DO THIS! stories behind self-publishing.
SATURDAY, Sarnath, Noon – 1 pm: Weird South: A Good Horror Isn't Hard to Find: The Dark Side of Flannery O'Connor and Southern Gothic Literature
…Do I have to convince you to come see folks talk about Flannery O'Connor? I shouldn't have to. I mean come on. WISE BLOOD! Read it. Watch it. TERRIFYING! GORGEOUSNESS! Let alone her short stories.
* * *
And if I get time while I'm in Atlanta I'm totally going here:
OK! OK! OK! I gotta go. I gotta get on the road. See y'all there.