Well, folks, I'm late to the dance. Muddy Roots was, ever and always, Labor Day weekend – and here I am, over a month of dirt kickin' and shows later, finally putting a review together.
Were I a wizard, I'd feel better about the slow-going.
Thursday, September 1, 2016
Muddy Roots is held at the June Bug Ranch in Cookeville, TN. It's a perfectly reasonable place to travel…if you arrive in the sunshine. As for me, I got there with the stars high and a cool wind on my heels. I don't know why, after five years, I can't get to Muddy Roots without an adventure. This one involved missing a turn and driving through Standing Stone State Park. It's fulla curves and shadows and has a one-lane bridge that looks like a murder path.
I made camp on Chicago Hill. The full force of the Scumbags Drinking Club was already set up and James Hunnicutt serenaded from the pre-show.
It's a known fact that James Hunnicutt was made mortal through the flesh of former Dali Lamas and animated by the tears of Jesus, Allah, the Buddha, and Lemmy. Ain't a purer sound or better feelin' at Muddy Roots. You want zen in a Tennessee field? Hunnicutt's yer man.
* * *
Stump Tail Dolly closed out the night. They are some gloriously weird shit. It's metal meets country that feels like Sherri Moon Zombie wandering a Nashville Primus show on acid.
Friday, September 2, 2016
Windy. Overcast. Are you kidding me? No rain? No blister-heaving sun? THE BEST WEATHER EVER!
Deadly Lo-Fi SLAYED. GD groovy, hip swayin', spooky rock. I'm fairly certain that Vincent Price raises from the grave every All Hallows' Eve to throw a beach party bloodbath where Deadly Lo-Fi perform and the Cryptkeeper grinds on go-go ghouls.
I want to write a B-horror movie (or a grindhouse play) and have the dueling saxes and fuzzed out, psycho rock of Deadly Lo-Fi as the soundtrack.
I got a pal named Rude Joe. He sometimes has lunch on Muddy Waters' grave. I leaned over to him during the set and told him it sounds like the kinda band he'd play for Muddy that'd get his bones tappin'.
Deadly Lo-Fi make music for the Autumn People. Go. Now. Go listen. Here. This one. And this one.
* * *
Lonewolf OMB has a voice fulla gravel and murk. His mud-throated croon and blues is the kind I'd ass-shake to by a trashcan fire outside of Stax Records. Raunchy. Vigorous. Yowza.
* * *
Matt Heckler's a self-taught fiddler who sounds classically trained. The ginger-bearded bard made a tent fulla drunks hold their breath to melancholic mountain tunes. If you like foggy wooded walks, complex fiddle, and pleasantly sorrowful songs, check out his album Kaatskillachia.
* * *
A Pony Named Olga is primo polkabilly. Their country punk sounds like what yer grandma takes speed to while giving handies in the old folks' home coat closet.
* * *
Delaney Davidson plays fedora-wearin' folk noir. He's a master of the looping pedal, the six string, and strange effects. Davidson is a suited troubadour who seems like a man you'd see humming over Harry Blackstone's grave. He's got enough woe and poetry to pack a suitcase with.
* * *
W.T. Newton and the Ozark Blood played the open mic stage. Newton has a rock slide yowl that hollers out rotgut hymns and hardships. Matt Heckler guested on fiddle and Cris Bissell (of S.S. Web) capered 'cross the washboard makin' the three-piece a fiver, for the night. The American novelist Jim Harrison said, "I like grit, I like love and death, I'm tired of irony." You can hear those sentiments in Newton's songsmithing.
* * *
The Voodoo Glow Skulls are as full-tilt as ever turning a late night roots crowd into dance pit maniacs. There was a hella frenetic energy and PMA pouring out of 'em.
* * *
Slim Cessna's Auto Club killed it, as usual. If you haven't checked out their new album, The Commandments According to SCAC, you should. Deep, dark, and exquisitely telestic. SCAC would be the band booked at the bar that townies drifted into after Shirley Jackson's Lottery occurs. Click for radness.
* * *
Who was laying down listening to the The Calamity Cubes up on Chicago Hill? Me. #FailBoat #Spent #HowDidIMissThemTheyAreGorgeous #GoBuyAllTheirShit And then when yer done with that, buy Brook's solo doin's and take a gander at Joey Henry's, too.
Saturday, September 3, 2016
Rock Bottom String Band is SO BADASS! Mackenzie Dart's voice is like lace soaked in the blood of a riverboat flapper. There's a bit of vinegar in it and a whole lotta mystery. Meanwhile, Tara Miller is one of the best damn washboard players out there. I bet she could make a crowd dance with a rusted can and a broken stick. LOVE LOVE LOVE.
* * *
Smokestack Relics are a two-piece made out of brothers Cameron and Collin Webb. If I had a taxidermied alligator that was turned into a radio, I'd blast Smokestack Relics out of it. They got mud-stompin, dirty blues down.
* * *
The Drunken Cuddle's the kinda band you want to play yer dumpster pool party. They're a loudass, punk-roots two-piece that are GD compelling to watch. Katie Cuddle is an effing MONSTER on drums. She can go from ukulele-playing-nice-lady to I WILL EAT YOUR FACE headbanging pirate. Erik can make a fetish song sound sweet enough to sing to yer parents. See them. Give them greenbacks.
* * *
You want low-down, gutbucket booze tunes? S.S. Web could soundtrack yer frantic dash from debtors at an illegal, Midwestern casino. Or maybe it's the music you'd play to train a pet vulture so it'd drop meat cleavers on your foes.
* * *
Dylan Walshe throws all his cards on the table…and I imagine that table to be sat with Yeats and Shaw, shuffled around by Bob Dylan. Politics and heartwrecks aplenty.
* * *
Ever stomach-stab the Devil only to have her vomit fire into yer mouth for revenge? Me neither. But Gary Lindsey has a voice that sounds like he has. Black Eyed Vermillion plays whiskey-doom-punk with rage-for-living lyrics that Dylan Thomas'd bite his nails over.
* * *
Split Lip Rayfield play bat-outta-hell-fast bluegrass. They are technically intense…even with a third of the sound being provided by a gas-tank bass.
* * *
Jayke Orvis knows how to spread a stage in pain and glory. Broken times, bad habits, mangled hearts, bein' held, and holdin' up yer friends – it's all there. Can't wait to see what the dude puts out next.
* * *
Have you ever seen the movie Beasts of the Southern Wild? If not GO SEE IT. In the very least, check out the dreamy, surreal soundtrack. The Lost Bayou Ramblers were an integral part of that score and I GOT TO SEE THEM LIVE AT MUDDY ROOTS! Seriously smalls, I have written HOURS AND HOURS to that soundtrack on loop.
Lost Bayou Ramblers are the band that would be playing in a boarded-up Louisiana diner that's slowly sinking into a swamp but still has a waitress who goes there every Sunday to dance to the jukebox too heavy for her to move.
* * *
I mean. Is there ever going to be a time when I don't totally glow over Joseph Huber? We've been over this, world. I think that Joseph Huber is one of the best lyricist out there. His music is fulla the solace of open spaces and makes hurtin' not so horrid. Breakup music. Bar tunes. New beginnings. They're all there.
 * * *
Flat Duo Jets I heard from Chicago Hill. Psycho roots and raging maniacs, after all these years. <3
* * *
The Melvins…doom grunge in the middle of a Tennessee field. Hella foreboding. Hella metal.
* * *
I missed Those Poor Bastards and the Hooten Hallers. It's more apt to say I heard them from Chicago Hill. It was late. I needed snackage. I found a slew'a folks I hadn't seen in a year and joined a huddle of hooligans. You want macabre autumn music? Those Poor Bastards are yer crooked band. (Lonesome Wyatt's even put out a Halloween album.) You want scab-pickin', swamp soul to jostle and thwack yer crotchal provinces to? HOOTEN HALLERS all the way, all night long…and then again, in the a.m., when you are chafed and achin'.
Sunday, September 4, 2016
Julian Davis is a pup. The Kansas kid can't even drink yet and he's out there flatpickin' festivals and appearing on America's Got Talent. He's walkin' the trail that Pokey LaFarge is blazing down. Hell yeah, he's a whole new generation interested in and exposing others to, western swing and bluegrass.
* * *
Brook Blanche plays acoustic Americana. He's a chronicler of fortunes folded. A rhapsodist of ruin and fervor. He's the music that the old man in Hemingway's "A Clean, Well-Lighted Place" plays when he finally gets back home.
* * *
J.D. Wilkes' hands on tin pin alley keys can make a crowd weak-kneed. He's a factotum of harmonious history and oddball art. I wouldn't be surprised if there was a backcountry, Kentucky curiosity shop run by geeks and demons scored by Wilkes' wild moon waltzes through the soul of yesteryear. Can't get enough of his Southern Gothic saunter and stroll? His first novel, The Vine That Ate the South, comes out in March.
* * *
Were the apparition of Emma Goldman to have a modern day Haymarket soiree, she'd hire Carrie Nation and the Speakeasy for the night. Their brass and grass, anarchic folk could just as easily motivate rug-cuttin' as revolution.
Goal: to write a story that reads as fast as those dudes play.
* * *
Adam Lee's got a pompadour you could crack Thor's hammer on and dark eyes that look like their searchin' you for a story. "Good Days" off his new album, Sincerely, Me, has been in my head for months. Live? You want to know how his voice holds up live? Effin' swoon worthy.
* * *
Everything's gonna be all right. It is. Because The Tillers exist. Even though yer buried under more dread and distress than there's dirt in the earth, their old time string band will take you to the cathedral of relief.
* * *
I wanna write a corn maze murder party movie. Reverend Peyton's Big Damn Band would be playing the center of the stalks…until they realize a sledgehammer slaughterer is swingin' left and right, mowing down the good people. Breezy'd smash him with her flame-filled washboard. The Rev. would stomp him for good measure then play a cigar box guitar on his twitching corpse. Which will reanimate, allowing Max to drumstick-stab the killer. Which is all to say that Reverend Peyton's Big Damn Band kicks up a fantastic ruckus and you should give them a listen.
* * *
Del McCoury is a polished man in a polished band with hella fetching suits. For two years in a row, the Del McCoury Band has kicked Muddy Roots' ass. He takes audience requests. He plays faster than folks half his age. Inspired by Earl Scruggs and drippin' Appalachian elegance, Del McCoury is a living link to bygone holler bluegrass. And he's frikkin funny.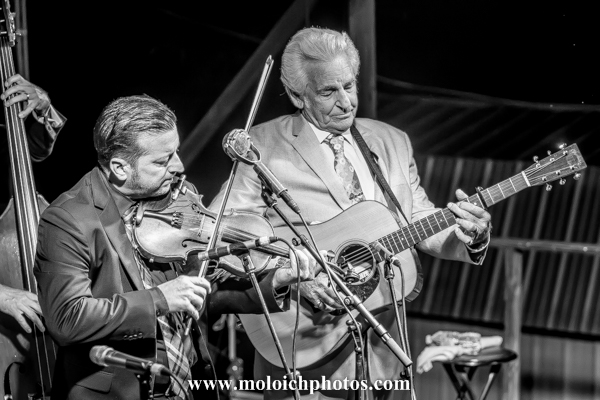 * * *
Morgan O'Kane's been banjo-buskin' New York streets since 2008. Dude's all over the place. You know that show Outsiders? He did their theme. It was a robust way to end Muddy Roots.
* * *
And that's it. That's all. A few hours later, I left the field. Drove back to Illinois.
…maybe some year soon I'll be able to hit up Muddy Roots Europe or Muddy Roots Brasil. That'd be a fine thing.
* * *
In the meantime, thank Eris for folks like Jason Galaz – the man behind everything Muddy Roots. He started a record label. He hosts at least six festivals a year and, now, he's even picked up sponsorship of Moonrunners in Chicago. Oh yeah, and in his free time (HA! What free time???), he opened up the Vinyl Bunker in Nashville, TN.
I don't really know the dude but the community of music-lovers, weirdoes, and bands he's helped cultivate has markedly changed my vision of how many innovative and artful undertakings one person can produce in a lifetime.
..time to go make good art.
Save
Save
Save
Save
Save
Save
Save
Save
Save
Save
Save
Save
Save
Save
Save
Save
Save
Save
Save
Save
Save
Save
Save
Save